Alice's Adventures in Wonderland
Alice's Abenteuer im Wunderland
CHAPTER VI.
Sechstes Kapitel.
Pig and Pepper
Ferkel und Pfeffer.
For a minute or two she stood looking at the house, and wondering what to do next, when suddenly a footman in livery came running out of the wood—(she considered him to be a footman because he was in livery: otherwise, judging by his face only, she would have called him a fish)—and rapped loudly at the door with his knuckles. It was opened by another footman in livery, with a round face, and large eyes like a frog; and both footmen, Alice noticed, had powdered hair that curled all over their heads. She felt very curious to know what it was all about, and crept a little way out of the wood to listen.
Noch ein bis zwei Augenblicke stand sie und sah das Häuschen an, ohne recht zu wissen was sie nun thun solle, als plötzlich ein Lackei in Livree vom Walde her gelaufen kam – (sie hielt ihn für einen Lackeien, weil er Livree trug, sonst, nach seinem Gesichte zu urtheilen, würde sie ihn für einen Fisch angesehen haben) – und mit den Knöcheln laut an die Thür klopfte. Sie wurde von einem andern Lackeien in Livree geöffnet, der ein rundes Gesicht und große Augen wie ein Frosch hatte, und beide Lackeien hatten, wie Alice bemerkte, gepuderte Lockenperücken über den ganzen Kopf. Sie war sehr neugierig, was nun geschehen würde, und schlich sich etwas näher, um zuzuhören.
The Fish-Footman began by producing from under his arm a great letter, nearly as large as himself, and this he handed over to the other, saying, in a solemn tone, 'For the Duchess. An invitation from the Queen to play croquet.' The Frog-Footman repeated, in the same solemn tone, only changing the order of the words a little, 'From the Queen. An invitation for the Duchess to play croquet.'
Der Fisch-Lackei fing damit an, einen ungeheuren Brief, beinah so groß wie er selbst, unter dem Arme hervorzuziehen; diesen überreichte er dem anderen, in feierlichem Tone sprechend: "Für die Herzogin. Eine Einladung von der Königin, Croquet zu spielen." Der Frosch-Lackei erwiederte in demselben feierlichen Tone, indem er nur die Aufeinanderfolge der Wörter etwas veränderte: "Von der Königin. Eine Einladung für die Herzogin, Croquet zu spielen."
Then they both bowed low, and their curls got entangled together.
Dann verbeugten sich Beide tief, und ihre Locken verwickelten sich in einander.
Alice laughed so much at this, that she had to run back into the wood for fear of their hearing her; and when she next peeped out the Fish-Footman was gone, and the other was sitting on the ground near the door, staring stupidly up into the sky.
Darüber lachte Alice so laut, daß sie in das Gebüsch zurücklaufen mußte, aus Furcht, sie möchten sie hören, und als sie wieder herausguckte, war der Fisch-Lackei fort, und der andere saß auf dem Boden bei der Thür und sah dumm in den Himmel hinauf.
Alice went timidly up to the door, and knocked.
Alice ging furchtsam auf die Thür zu und klopfte.
'There's no sort of use in knocking,' said the Footman, 'and that for two reasons. First, because I'm on the same side of the door as you are; secondly, because they're making such a noise inside, no one could possibly hear you.' And certainly there was a most extraordinary noise going on within—a constant howling and sneezing, and every now and then a great crash, as if a dish or kettle had been broken to pieces.
"Es ist durchaus unnütz, zu klopfen," sagte der Lackei, "und das wegen zweier Gründe. Erstens weil ich an derselben Seite von der Thür bin wie du, zweitens, weil sie drinnen einen solchen Lärm machen, daß man dich unmöglich hören kann." Und wirklich war ein ganz merkwürdiger Lärm drinnen, ein fortwährendes Heulen und Niesen, und von Zeit zu Zeit ein lautes Krachen, als ob eine Schüssel oder ein Kessel zerbrochen wäre.
'Please, then,' said Alice, 'how am I to get in?'
"Bitte," sagte Alice, "wie soll ich denn hineinkommen?"
'There might be some sense in your knocking,' the Footman went on without attending to her, 'if we had the door between us. For instance, if you were INSIDE, you might knock, and I could let you out, you know.' He was looking up into the sky all the time he was speaking, and this Alice thought decidedly uncivil. 'But perhaps he can't help it,' she said to herself; 'his eyes are so VERY nearly at the top of his head. But at any rate he might answer questions.—How am I to get in?' she repeated, aloud.
"Es wäre etwas Sinn und Verstand darin, anzuklopfen," fuhr der Lackei fort, ohne auf sie zu hören, "wenn wir die Thür zwischen uns hätten. Zum Beispiel, wenn du drinnen wärest, könntest du klopfen, und ich könnte dich herauslassen, nicht wahr?" Er sah die ganze Zeit über, während er sprach, in den Himmel hinauf, was Alice entschieden sehr unhöflich fand. "Aber vielleicht kann er nicht dafür," sagte sie bei sich; "seine Augen sind so hoch oben auf seiner Stirn. Aber jedenfalls könnte er mir antworten. – Wie soll ich denn hineinkommen?" wiederholte sie laut.
'I shall sit here,' the Footman remarked, 'till tomorrow—'
"Ich werde hier sitzen," sagte der Lackei, "bis morgen –"
At this moment the door of the house opened, and a large plate came skimming out, straight at the Footman's head: it just grazed his nose, and broke to pieces against one of the trees behind him.
In diesem Augenblicke ging die Thür auf, und ein großer Teller kam heraus geflogen, gerade auf den Kopf des Lackeien los; er strich aber über seine Nase hin und brach an einem der dahinterstehenden Bäume in Stücke.
'—or next day, maybe,' the Footman continued in the same tone, exactly as if nothing had happened.
"– oder übermorgen, vielleicht," sprach der Lackei in demselben Tone fort, als ob nichts vorgefallen wäre.
'How am I to get in?' asked Alice again, in a louder tone.
"Wie soll ich denn hineinkommen?" fragte Alice wieder, lauter als vorher.
'ARE you to get in at all?' said the Footman. 'That's the first question, you know.'
"Sollst du überhaupt hineinkommen?" sagte der Lackei. "Das ist die erste Frage, nicht wahr?"
It was, no doubt: only Alice did not like to be told so. 'It's really dreadful,' she muttered to herself, 'the way all the creatures argue. It's enough to drive one crazy!'
Das war es allerdings; nur ließ sich Alice das nicht gern sagen. "Es ist wirklich schrecklich," murmelte sie vor sich hin, "wie naseweis alle diese Geschöpfe sind. Es könnte Einen ganz verdreht machen!"
The Footman seemed to think this a good opportunity for repeating his remark, with variations. 'I shall sit here,' he said, 'on and off, for days and days.'
Der Lackei schien dies für eine gute Gelegenheit anzusehen, seine Bemerkung zu wiederholen, und zwar mit Variationen. "Ich werde hier sitzen," sagte er, "ab und an, Tage und Tage lang."
'But what am I to do?' said Alice.
"Was soll ich aber thun?" fragte Alice.
'Anything you like,' said the Footman, and began whistling.
"Was dir gefällig ist," sagte der Lackei, und fing an zu pfeifen.
'Oh, there's no use in talking to him,' said Alice desperately: 'he's perfectly idiotic!' And she opened the door and went in.
"Es hilft zu nichts, mit ihm zu reden," sagte Alice außer sich, "er ist vollkommen blödsinnig!" Sie klinkte die Thür auf und ging hinein.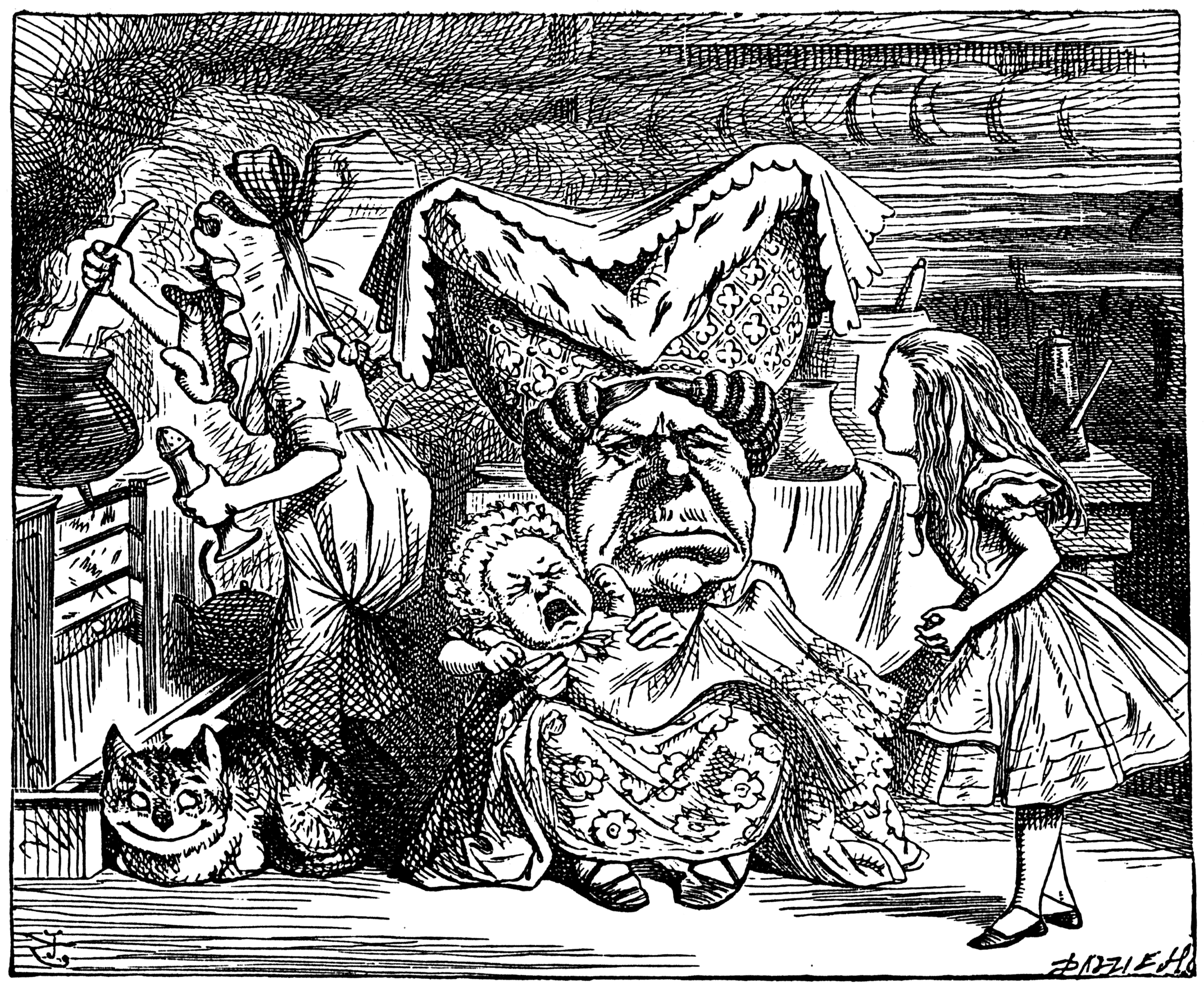 The door led right into a large kitchen, which was full of smoke from one end to the other: the Duchess was sitting on a three-legged stool in the middle, nursing a baby; the cook was leaning over the fire, stirring a large cauldron which seemed to be full of soup.
Die Thür führte geradewegs in eine große Küche, welche von einem Ende bis zum andern voller Rauch war; in der Mitte saß auf einem dreibeinigen Schemel die Herzogin, mit einem Wickelkinde auf dem Schoße; die Köchin stand über das Feuer gebückt und rührte in einer großen Kasserole, die voll Suppe zu sein schien.
'There's certainly too much pepper in that soup!' Alice said to herself, as well as she could for sneezing.
"In der Suppe ist gewiß zu viel Pfeffer!" sprach Alice für sich, so gut sie vor Niesen konnte.
There was certainly too much of it in the air. Even the Duchess sneezed occasionally; and as for the baby, it was sneezing and howling alternately without a moment's pause. The only things in the kitchen that did not sneeze, were the cook, and a large cat which was sitting on the hearth and grinning from ear to ear.
Es war wenigstens zu viel in der Luft. Sogar die Herzogin nieste hin und wieder; was das Wickelkind anbelangt, so nieste und schrie es abwechselnd ohne die geringste Unterbrechung. Die beiden einzigen Wesen in der Küche, die nicht niesten, waren die Köchin und eine große Katze, die vor dem Herde saß und grinste, sodaß die Mundwinkel bis an die Ohren reichten.
'Please would you tell me,' said Alice, a little timidly, for she was not quite sure whether it was good manners for her to speak first, 'why your cat grins like that?'
"Wollen Sie mir gütigst sagen," fragte Alice etwas furchtsam, denn sie wußte nicht recht, ob es sich für sie schicke zuerst zu sprechen, "warum Ihre Katze so grinst?"
'It's a Cheshire cat,' said the Duchess, 'and that's why. Pig!'
"Es ist eine Grinse-Katze," sagte die Herzogin, "darum! Ferkel!"
She said the last word with such sudden violence that Alice quite jumped; but she saw in another moment that it was addressed to the baby, and not to her, so she took courage, and went on again:—
Das letzte Wort sagte sie mit solcher Heftigkeit, daß Alice auffuhr; aber den nächsten Augenblick sah sie, daß es dem Wickelkinde galt, nicht ihr; sie faßte also Muth und redete weiter: –
'I didn't know that Cheshire cats always grinned; in fact, I didn't know that cats COULD grin.'
"Ich wußte nicht, daß Katzen manchmal grinsen; ja ich wußte nicht, daß Katzen überhaupt grinsen können."
'They all can,' said the Duchess; 'and most of 'em do.'
"Sie können es alle," sagte die Herzogin, "und die meisten thun es."
'I don't know of any that do,' Alice said very politely, feeling quite pleased to have got into a conversation.
"Ich kenne keine, die es thut," sagte Alice sehr höflich, da sie ganz froh war, eine Unterhaltung angeknüpft zu haben.
'You don't know much,' said the Duchess; 'and that's a fact.'
"Du kennst noch nicht viel," sagte die Herzogin, "und das ist die Wahrheit."
Alice did not at all like the tone of this remark, and thought it would be as well to introduce some other subject of conversation. While she was trying to fix on one, the cook took the cauldron of soup off the fire, and at once set to work throwing everything within her reach at the Duchess and the baby—the fire-irons came first; then followed a shower of saucepans, plates, and dishes. The Duchess took no notice of them even when they hit her; and the baby was howling so much already, that it was quite impossible to say whether the blows hurt it or not.
Alice gefiel diese Bemerkung gar nicht, und sie dachte daran, welchen andern Gegenstand der Unterhaltung sie einführen könnte. Während sie sich auf etwas Passendes besann, nahm die Köchin die Kasserole mit Suppe vom Feuer und fing sogleich an, Alles was sie erreichen konnte nach der Herzogin und dem Kinde zu werfen – die Feuerzange kam zuerst, dann folgte ein Hagel von Pfannen, Tellern und Schüsseln. Die Herzogin beachtete sie gar nicht, auch wenn sie sie trafen; und das Kind heulte schon so laut, daß es unmöglich war zu wissen, ob die Stöße ihm weh thaten oder nicht.
'Oh, PLEASE mind what you're doing!' cried Alice, jumping up and down in an agony of terror. 'Oh, there goes his PRECIOUS nose'; as an unusually large saucepan flew close by it, and very nearly carried it off.
"Oh, bitte, nehmen Sie sich in Acht, was Sie thun!" rief Alice, die in wahrer Herzensangst hin und her sprang. "Oh, seine liebe kleine Nase!" als eine besonders große Pfanne dicht daran vorbeifuhr und sie beinah abstieß.
'If everybody minded their own business,' the Duchess said in a hoarse growl, 'the world would go round a deal faster than it does.'
"Wenn Jeder nur vor seiner Thür fegen wollte," brummte die Herzogin mit heiserer Stimme, "würde die Welt sich bedeutend schneller drehen, als jetzt."
'Which would NOT be an advantage,' said Alice, who felt very glad to get an opportunity of showing off a little of her knowledge. 'Just think of what work it would make with the day and night! You see the earth takes twenty-four hours to turn round on its axis—'
"Was kein Vortheil wäre," sprach Alice, die sich über die Gelegenheit freute, ihre Kenntnisse zu zeigen. "Denken Sie nur, wie es Tag und Nacht in Unordnung bringen würde! Die Erde braucht doch jetzt vier und zwanzig Stunden, sich um ihre Achse zu drehen –"
'Talking of axes,' said the Duchess, 'chop off her head!'
"Was, du redest von Axt?" sagte die Herzogin. "Hau' ihr den Kopf ab!"
Alice glanced rather anxiously at the cook, to see if she meant to take the hint; but the cook was busily stirring the soup, and seemed not to be listening, so she went on again: 'Twenty-four hours, I THINK; or is it twelve? I—'
Alice sah sich sehr erschrocken nach der Köchin um, ob sie den Wink verstehen würde; aber die Köchin rührte die Suppe unverwandt und schien nicht zuzuhören, daher fuhr sie fort: "Vier und zwanzig Stunden, glaube ich; oder sind es zwölf? Ich –"
'Oh, don't bother ME,' said the Duchess; 'I never could abide figures!' And with that she began nursing her child again, singing a sort of lullaby to it as she did so, and giving it a violent shake at the end of every line:
"Ach, laß mich in Frieden," sagte die Herzogin, "ich habe Zahlen nie ausstehen können!" Und damit fing sie an, ihr Kind zu warten und eine Art Wiegenlied dazu zu singen, wovon jede Reihe mit einem derben Puffe für das Kind endigte: –
'Speak roughly to your little boy,
And beat him when he sneezes:
He only does it to annoy,
Because he knows it teases.'


"Schilt deinen kleinen Jungen aus,
Und schlag' ihn, wenn er niest;
Er macht es gar so bunt und kraus,
Nur weil es uns verdrießt."


CHORUS.
(In which the cook and the baby joined):—
'Wow! wow! wow!'


Chor
(in welchen die Köchin und das Wickelkind einfielen).
"Wau! wau! wau!"


While the Duchess sang the second verse of the song, she kept tossing the baby violently up and down, and the poor little thing howled so, that Alice could hardly hear the words:—
Während die Herzogin den zweiten Vers des Liedes sang, schaukelte sie das Kind so heftig auf und nieder, und das arme kleine Ding schrie so, daß Alice kaum die Worte verstehen konnte: –
'I speak severely to my boy,
I beat him when he sneezes;
For he can thoroughly enjoy
The pepper when he pleases!'


"Ich schelte meinen kleinen Wicht,
Und schlag' ihn, wenn er niest;
Ich weiß, wie gern er Pfeffer riecht,
Wenn's ihm gefällig ist."


'Here! you may nurse it a bit, if you like!' the Duchess said to Alice, flinging the baby at her as she spoke. 'I must go and get ready to play croquet with the Queen,' and she hurried out of the room. The cook threw a frying-pan after her as she went out, but it just missed her.
"Hier! du kannst ihn ein Weilchen warten, wenn du willst!" sagte die Herzogin zu Alice, indem sie ihr das Kind zuwarf. "Ich muß mich zurecht machen, um mit der Königin Croquet zu spielen," damit rannte sie aus dem Zimmer. Die Köchin warf ihr eine Bratpfanne nach; aber sie verfehlte sie noch eben.
Alice caught the baby with some difficulty, as it was a queer-shaped little creature, and held out its arms and legs in all directions, 'just like a star-fish,' thought Alice. The poor little thing was snorting like a steam-engine when she caught it, and kept doubling itself up and straightening itself out again, so that altogether, for the first minute or two, it was as much as she could do to hold it.
Alice hatte das Kind mit Mühe und Noth aufgefangen, da es ein kleines unförmliches Wesen war, das seine Arme und Beinchen nach allen Seiten ausstreckte, "gerade wie ein Seestern," dachte Alice. Das arme kleine Ding stöhnte wie eine Locomotive, als sie es fing, und zog sich zusammen und streckte sich wieder aus, so daß sie es die ersten Paar Minuten nur eben halten konnte.
As soon as she had made out the proper way of nursing it, (which was to twist it up into a sort of knot, and then keep tight hold of its right ear and left foot, so as to prevent its undoing itself,) she carried it out into the open air. 'IF I don't take this child away with me,' thought Alice, 'they're sure to kill it in a day or two: wouldn't it be murder to leave it behind?' She said the last words out loud, and the little thing grunted in reply (it had left off sneezing by this time). 'Don't grunt,' said Alice; 'that's not at all a proper way of expressing yourself.'
Sobald sie aber die rechte Art entdeckt hatte, wie man es tragen mußte (die darin bestand, es zu einer Art Knoten zu drehen, und es dann fest beim rechten Ohr und linken Fuß zu fassen, damit es sich nicht wieder aufwickeln konnte), brachte sie es in's Freie. "Wenn ich dies Kind nicht mit mir nehme," dachte Alice, "so werden sie es in wenigen Tagen umgebracht haben; wäre es nicht Mord, es da zu lassen?" Sie sprach die letzten Worte laut, und das kleine Geschöpf grunzte zur Antwort (es hatte mittlerweile aufgehört zu niesen). "Grunze nicht," sagte Alice; "es paßt sich gar nicht für dich, dich so auszudrücken."
The baby grunted again, and Alice looked very anxiously into its face to see what was the matter with it. There could be no doubt that it had a VERY turn-up nose, much more like a snout than a real nose; also its eyes were getting extremely small for a baby: altogether Alice did not like the look of the thing at all. 'But perhaps it was only sobbing,' she thought, and looked into its eyes again, to see if there were any tears.
Der Junge grunzte wieder, so daß Alice ihm ganz ängstlich in's Gesicht sah, was ihm eigentlich fehle. Er hatte ohne Zweifel eine sehr hervorstehende Nase, eher eine Schnauze als eine wirkliche Nase; auch seine Augen wurden entsetzlich klein für einen kleinen Jungen: Alles zusammen genommen, gefiel Alice das Aussehen des Kindes gar nicht. "Aber vielleicht hat es nur geweint," dachte sie und sah ihm wieder in die Augen, ob Thränen da seien.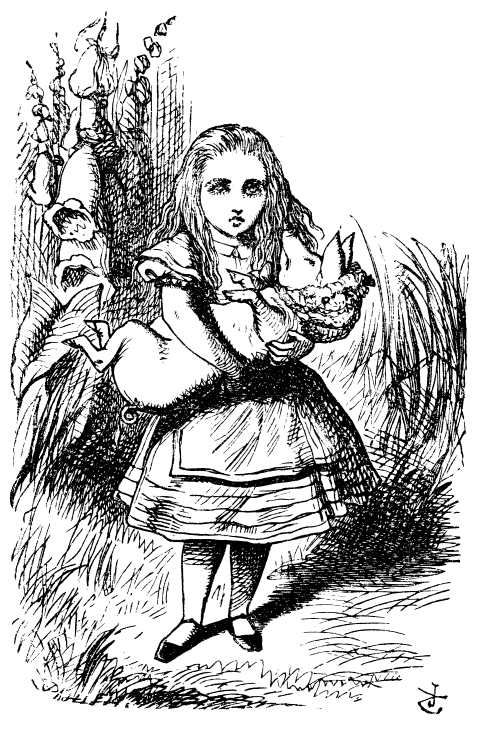 No, there were no tears. 'If you're going to turn into a pig, my dear,' said Alice, seriously, 'I'll have nothing more to do with you. Mind now!' The poor little thing sobbed again (or grunted, it was impossible to say which), and they went on for some while in silence.
Nein, es waren keine Thränen da. "Wenn du ein kleines Ferkel wirst, höre mal," sagte Alice sehr ernst, "so will ich nichts mehr mit dir zu schaffen haben, das merke dir!" Das arme kleine Ding schluchzte (oder grunzte, es war unmöglich, es zu unterscheiden), und dann gingen sie eine Weile stillschweigend weiter.
Alice was just beginning to think to herself, 'Now, what am I to do with this creature when I get it home?' when it grunted again, so violently, that she looked down into its face in some alarm. This time there could be NO mistake about it: it was neither more nor less than a pig, and she felt that it would be quite absurd for her to carry it further.
Alice fing eben an, sich zu überlegen: "Nun, was soll ich mit diesem Geschöpf anfangen, wenn ich es mit nach Hause bringe?" als es wieder grunzte, so laut, daß Alice erschrocken nach ihm hinsah. Diesmal konnte sie sich nicht mehr irren: es war nichts mehr oder weniger als ein Ferkel, und sie sah, daß es höchst lächerlich für sie wäre, es noch weiter zu tragen.
So she set the little creature down, and felt quite relieved to see it trot away quietly into the wood. 'If it had grown up,' she said to herself, 'it would have made a dreadfully ugly child: but it makes rather a handsome pig, I think.' And she began thinking over other children she knew, who might do very well as pigs, and was just saying to herself, 'if one only knew the right way to change them—' when she was a little startled by seeing the Cheshire Cat sitting on a bough of a tree a few yards off.
Sie setzte also das kleine Ding hin und war ganz froh, als sie es ruhig in den Wald traben sah. "Das wäre in einigen Jahren ein furchtbar häßliches Kind geworden; aber als Ferkel macht es sich recht nett, finde ich." Und so dachte sie alle Kinder durch, die sie kannte, die gute kleine Ferkel abgeben würden, und sagte gerade für sich: "wenn man nur die rechten Mittel wüßte, sie zu verwandeln –" als sie einen Schreck bekam; die Grinse-Katze saß nämlich wenige Fuß von ihr auf einem Baumzweige.
The Cat only grinned when it saw Alice. It looked good-natured, she thought: still it had VERY long claws and a great many teeth, so she felt that it ought to be treated with respect.
Die Katze grinste nur, als sie Alice sah. "Sie sieht gutmüthig aus," dachte diese; aber doch hatte sie sehr lange Krallen und eine Menge Zähne. Alice fühlte wohl, daß sie sie rücksichtsvoll behandeln müsse.
'Cheshire Puss,' she began, rather timidly, as she did not at all know whether it would like the name: however, it only grinned a little wider. 'Come, it's pleased so far,' thought Alice, and she went on. 'Would you tell me, please, which way I ought to go from here?'
"Grinse-Mies," fing sie etwas ängstlich an, da sie nicht wußte, ob ihr der Name gefallen würde: jedoch grinste sie noch etwas breiter. "Schön, so weit gefällt es ihr," dachte Alice und sprach weiter: "willst du mir wohl sagen, wenn ich bitten darf, welchen Weg ich hier nehmen muß?"
'That depends a good deal on where you want to get to,' said the Cat.
"Das hängt zum guten Theil davon ab, wohin du gehen willst," sagte die Katze.
'I don't much care where—' said Alice.
"Es kommt mir nicht darauf an, wohin –" sagte Alice.
'Then it doesn't matter which way you go,' said the Cat.
"Dann kommt es auch nicht darauf an, welchen Weg du nimmst," sagte die Katze.
'—so long as I get SOMEWHERE,' Alice added as an explanation.
"– wenn ich nur irgendwo hinkomme," fügte Alice als Erklärung hinzu.
'Oh, you're sure to do that,' said the Cat, 'if you only walk long enough.'
"O, das wirst du ganz gewiß," sagte die Katze, "wenn du nur lange genug gehest."
Alice felt that this could not be denied, so she tried another question. 'What sort of people live about here?'
Alice sah, daß sie nichts dagegen einwenden konnte; sie versuchte daher eine andere Frage. "Was für Art Leute wohnen hier in der Nähe?"
'In THAT direction,' the Cat said, waving its right paw round, 'lives a Hatter: and in THAT direction,' waving the other paw, 'lives a March Hare. Visit either you like: they're both mad.'
"In der Richtung," sagte die Katze, die rechte Pfote schwenkend, "wohnt ein Hutmacher, und in jener Richtung," die andere Pfote schwenkend, "wohnt ein Faselhase. Besuche welchen du willst: sie sind beide toll."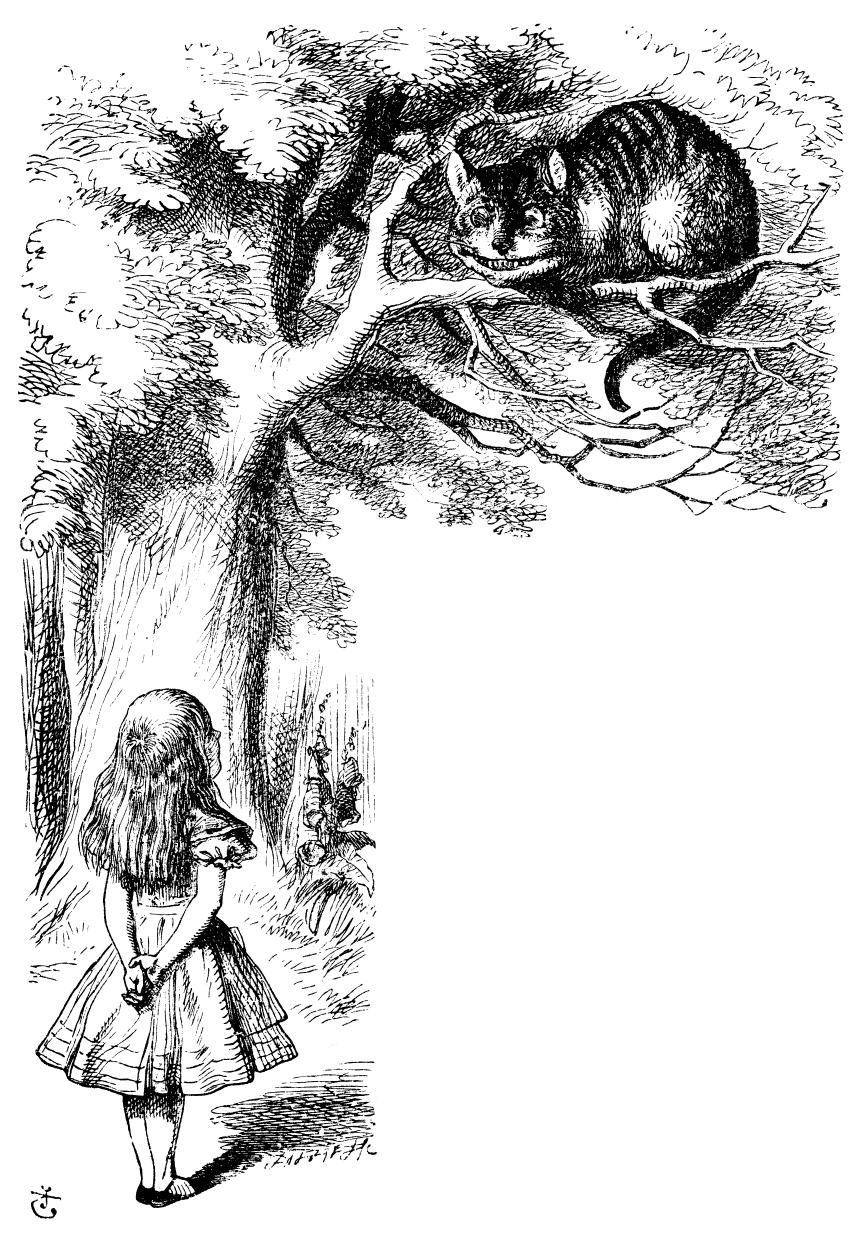 'But I don't want to go among mad people,' Alice remarked.
"Aber ich mag nicht zu tollen Leuten gehen," bemerkte Alice.
'Oh, you can't help that,' said the Cat: 'we're all mad here. I'm mad. You're mad.'
"Oh, das kannst du nicht ändern," sagte die Katze: "wir sind alle toll hier. Ich bin toll. Du bist toll."
'How do you know I'm mad?' said Alice.
"Woher weißt du, daß ich toll bin?" fragte Alice.
'You must be,' said the Cat, 'or you wouldn't have come here.'
"Du mußt es sein," sagte die Katze, "sonst wärest du nicht hergekommen."
Alice didn't think that proved it at all; however, she went on 'And how do you know that you're mad?'
Alice fand durchaus nicht, daß das ein Beweis sei; sie fragte jedoch weiter: "Und woher weißt du, daß du toll bist?"
'To begin with,' said the Cat, 'a dog's not mad. You grant that?'
"Zu allererst," sagte die Katze, "ein Hund ist nicht toll. Das giebst du zu?"
'I suppose so,' said Alice.
"Zugestanden!" sagte Alice.
'Well, then,' the Cat went on, 'you see, a dog growls when it's angry, and wags its tail when it's pleased. Now I growl when I'm pleased, and wag my tail when I'm angry. Therefore I'm mad.'
"Nun, gut," fuhr die Katze fort, "nicht wahr ein Hund knurrt, wenn er böse ist, und wedelt mit dem Schwanze, wenn er sich freut. Ich hingegen knurre, wenn ich mich freue, und wedle mit dem Schwanze, wenn ich ärgerlich bin. Daher bin ich toll."
'I call it purring, not growling,' said Alice.
"Ich nenne es spinnen, nicht knurren," sagte Alice.
'Call it what you like,' said the Cat. 'Do you play croquet with the Queen to-day?'
"Nenne es, wie du willst," sagte die Katze. "Spielst du heut Croquet mit der Königin?"
'I should like it very much,' said Alice, 'but I haven't been invited yet.'
"Ich möchte es sehr gern," sagte Alice, "aber ich bin noch nicht eingeladen worden."
'You'll see me there,' said the Cat, and vanished.
"Du wirst mich dort sehen," sagte die Katze und verschwand.
Alice was not much surprised at this, she was getting so used to queer things happening. While she was looking at the place where it had been, it suddenly appeared again.
Alice wunderte sich nicht sehr darüber; sie war so daran gewöhnt, daß sonderbare Dinge geschahen. Während sie noch nach der Stelle hinsah, wo die Katze gesessen hatte, erschien sie plötzlich wieder.
'By-the-bye, what became of the baby?' said the Cat. 'I'd nearly forgotten to ask.'
"Übrigens, was ist aus dem Jungen geworden?" sagte die Katze. "Ich hätte beinah vergessen zu fragen."
'It turned into a pig,' Alice quietly said, just as if it had come back in a natural way.
"Er ist ein Ferkel geworden," antwortete Alice sehr ruhig, gerade wie wenn die Katze auf gewöhnliche Weise zurückgekommen wäre.
'I thought it would,' said the Cat, and vanished again.
"Das dachte ich wohl," sagte die Katze und verschwand wieder.
Alice waited a little, half expecting to see it again, but it did not appear, and after a minute or two she walked on in the direction in which the March Hare was said to live. 'I've seen hatters before,' she said to herself; 'the March Hare will be much the most interesting, and perhaps as this is May it won't be raving mad—at least not so mad as it was in March.' As she said this, she looked up, and there was the Cat again, sitting on a branch of a tree.
Alice wartete noch etwas, halb und halb erwartend, sie wieder erscheinen zu sehen; aber sie kam nicht, und ein Paar Minuten nachher ging sie in der Richtung fort, wo der Faselhase wohnen sollte. "Hutmacher habe ich schon gesehen," sprach sie zu sich, "der Faselhase wird viel interessanter sein." Wie sie so sprach, blickte sie auf, und da saß die Katze wieder auf einem Baumzweige.
'Did you say pig, or fig?' said the Cat.
"Sagtest du Ferkel oder Fächer?" fragte sie.
'I said pig,' replied Alice; 'and I wish you wouldn't keep appearing and vanishing so suddenly: you make one quite giddy.'
"Ich sagte Ferkel," antwortete Alice, "und es wäre mir sehr lieb, wenn du nicht immer so schnell erscheinen und verschwinden wolltest: du machst Einen ganz schwindlig."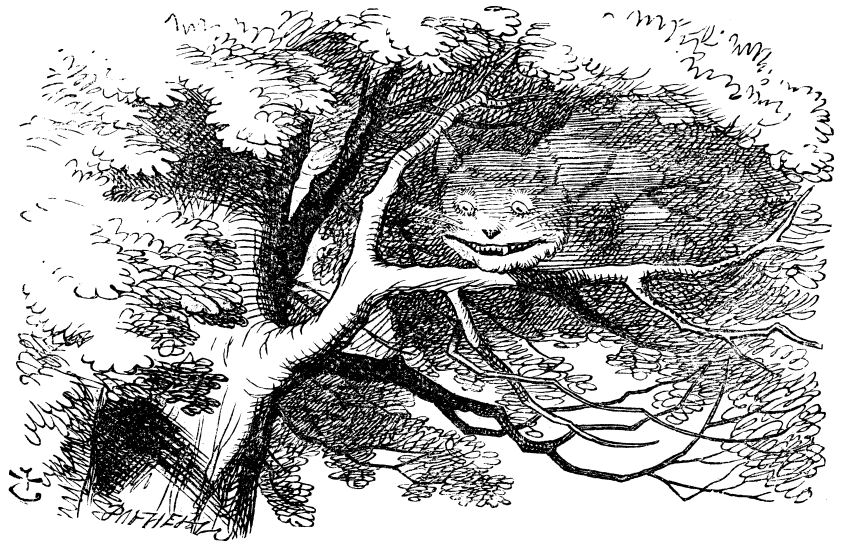 'All right,' said the Cat; and this time it vanished quite slowly, beginning with the end of the tail, and ending with the grin, which remained some time after the rest of it had gone.
"Schon gut," sagte die Katze, und diesmal verschwand sie ganz langsam, wobei sie mit der Schwanzspitze anfing und mit dem Grinsen aufhörte, das noch einige Zeit sichtbar blieb, nachdem das Übrige verschwunden war.
'Well! I've often seen a cat without a grin,' thought Alice; 'but a grin without a cat! It's the most curious thing I ever saw in my life!'
"Oho, ich habe oft eine Katze ohne Grinsen gesehen," dachte Alice, "aber ein Grinsen ohne Katze! so etwas Merkwürdiges habe ich in meinem Leben noch nicht gesehen!"
She had not gone much farther before she came in sight of the house of the March Hare: she thought it must be the right house, because the chimneys were shaped like ears and the roof was thatched with fur. It was so large a house, that she did not like to go nearer till she had nibbled some more of the lefthand bit of mushroom, and raised herself to about two feet high: even then she walked up towards it rather timidly, saying to herself 'Suppose it should be raving mad after all! I almost wish I'd gone to see the Hatter instead!'
Sie brauchte nicht weit zu gehen, so erblickte sie das Haus des Faselhasen; sie dachte, es müsse das rechte Haus sein, weil die Schornsteine wie Ohren geformt waren, und das Dach war mit Pelz gedeckt. Es war ein so großes Haus, daß, ehe sie sich näher heran wagte, sie ein wenig von dem Stück Pilz in ihrer linken Hand abknabberte, und sich bis auf zwei Fuß hoch brachte: trotzdem näherte sie sich etwas furchtsam, für sich sprechend: "Wenn er nur nicht ganz rasend ist! Wäre ich doch lieber zu dem Hutmacher gegangen!"
Text from wikisource.org
Audio from LibreVox.org
Text from wikisource.org
Audio from LibreVox.org