Alice's Abenteuer im Wunderland
Alice's Adventures in Wonderland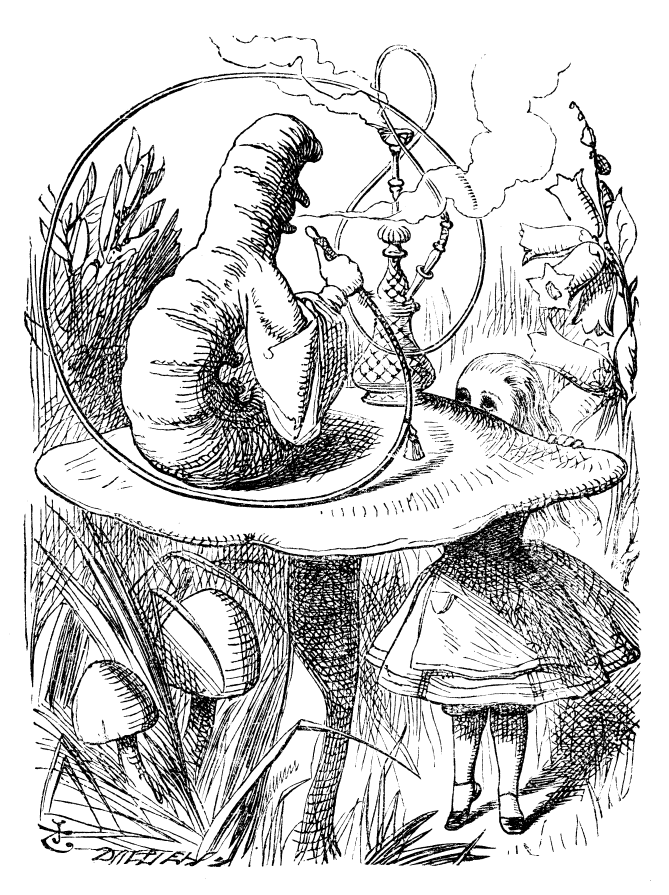 Fünftes Kapitel.
CHAPTER V.
Guter Rath von einer Raupe.
Advice from a Caterpillar
Die Raupe und Alice sahen sich eine Zeit lang schweigend an; endlich nahm die Raupe die Huhka aus dem Munde und redete sie mit schmachtender, langsamer Stimme an.
The Caterpillar and Alice looked at each other for some time in silence: at last the Caterpillar took the hookah out of its mouth, and addressed her in a languid, sleepy voice.
"Wer bist du?" fragte die Raupe.
'Who are YOU?' said the Caterpillar.
Das war kein sehr ermuthigender Anfang einer Unterhaltung. Alice antwortete, etwas befangen: "Ich – ich weiß nicht recht, diesen Augenblick – vielmehr ich weiß, wer ich heut früh war, als ich aufstand; aber ich glaube, ich muß seitdem ein paar Mal verwechselt worden sein."
This was not an encouraging opening for a conversation. Alice replied, rather shyly, 'I — I hardly know, sir, just at present—at least I know who I WAS when I got up this morning, but I think I must have been changed several times since then.'
"Was meinst du damit?" sagte die Raupe strenge. "Erkläre dich deutlicher!"
'What do you mean by that?' said the Caterpillar sternly. 'Explain yourself!'
"Ich kann mich nicht deutlicher erklären, fürchte ich, Raupe," sagte Alice, "weil ich nicht ich bin, sehen Sie wohl?"
'I can't explain MYSELF, I'm afraid, sir' said Alice, 'because I'm not myself, you see.'
"Ich sehe nicht wohl," sagte die Raupe.
'I don't see,' said the Caterpillar.
"Ich kann es wirklich nicht besser ausdrücken," erwiederte Alice sehr höflich, "denn ich kann es selbst nicht begreifen; und wenn man an einem Tage so oft klein und groß wird, wird man ganz verwirrt."
'I'm afraid I can't put it more clearly,' Alice replied very politely, 'for I can't understand it myself to begin with; and being so many different sizes in a day is very confusing.'
"Nein, das wird man nicht," sagte die Raupe.
'It isn't,' said the Caterpillar.
"Vielleicht haben Sie es noch nicht versucht," sagte Alice, "aber wenn Sie sich in eine Puppe verwandeln werden, das müssen Sie über kurz oder lang wie Sie wissen – und dann in einen Schmetterling, das wird sich doch komisch anfühlen, nicht wahr?"
'Well, perhaps you haven't found it so yet,' said Alice; 'but when you have to turn into a chrysalis—you will some day, you know—and then after that into a butterfly, I should think you'll feel it a little queer, won't you?'
"Durchaus nicht," sagte die Raupe.
'Not a bit,' said the Caterpillar.
"Sie fühlen wahrscheinlich anders darin," sagte Alice; "so viel weiß ich, daß es mir sehr komisch sein würde."
'Well, perhaps your feelings may be different,' said Alice; 'all I know is, it would feel very queer to ME.'
"Dir!" sagte die Raupe verächtlich. "Wer bist du denn?"
'You!' said the Caterpillar contemptuously. 'Who are YOU?'
Was sie wieder auf den Anfang der Unterhaltung zurückbrachte. Alice war etwas ärgerlich, daß die Raupe so sehr kurz angebunden war; sie warf den Kopf in die Höhe und sprach sehr ernst: "Ich dächte, Sie sollten mir erst sagen, wer Sie sind?"
Which brought them back again to the beginning of the conversation. Alice felt a little irritated at the Caterpillar's making such VERY short remarks, and she drew herself up and said, very gravely, 'I think, you ought to tell me who YOU are, first.'
"Weshalb?" fragte die Raupe.
'Why?' said the Caterpillar.
Das war wieder eine schwierige Frage; und da sich Alice auf keinen guten Grund besinnen konnte und die Raupe sehr schlechter Laune zu sein schien, so ging sie ihrer Wege.
Here was another puzzling question; and as Alice could not think of any good reason, and as the Caterpillar seemed to be in a VERY unpleasant state of mind, she turned away.
"Komm zurück!" rief ihr die Raupe nach, "ich habe dir etwas Wichtiges zu sagen!"
'Come back!' the Caterpillar called after her. 'I've something important to say!'
Das klang sehr einladend; Alice kehrte wieder um und kam zu ihr zurück.
This sounded promising, certainly: Alice turned and came back again.
"Sei nicht empfindlich," sagte die Raupe.
'Keep your temper,' said the Caterpillar.
"Ist das Alles?" fragte Alice, ihren Ärger so gut sie konnte verbergend.
'Is that all?' said Alice, swallowing down her anger as well as she could.
'No,' said the Caterpillar.
Alice dachte, sie wollte doch warten, da sie sonst nichts zu thun habe, und vielleicht würde sie ihr etwas sagen, das der Mühe werth sei. Einige Minuten lang rauchte die Raupe fort ohne zu reden; aber zuletzt nahm sie die Huhka wieder aus dem Munde und sprach: "Du glaubst also, du bist verwandelt?"
Alice thought she might as well wait, as she had nothing else to do, and perhaps after all it might tell her something worth hearing. For some minutes it puffed away without speaking, but at last it unfolded its arms, took the hookah out of its mouth again, and said, 'So you think you're changed, do you?'
"Ich fürchte es fast, Raupe," sagte Alice, "ich kann Sachen nicht behalten wie sonst, und ich werde alle zehn Minuten größer oder kleiner!"
'I'm afraid I am, sir,' said Alice; 'I can't remember things as I used—and I don't keep the same size for ten minutes together!'
"Kannst welche Sachen nicht behalten?" fragte die Raupe.
'Can't remember WHAT things?' said the Caterpillar.
"Ach, ich habe versucht zu sagen: Bei einem Wirthe etc.; aber es kam ganz anders!" antwortete Alice in niedergeschlagenem Tone.
'Well, I've tried to say "HOW DOTH THE LITTLE BUSY BEE," but it all came different!' Alice replied in a very melancholy voice.
"Sage her: Ihr seid alt, Vater Martin," sagte die Raupe.
'Repeat, "YOU ARE OLD, FATHER WILLIAM,"' said the Caterpillar.
Alice faltete die Hände und fing an: –
Alice folded her hands, and began:—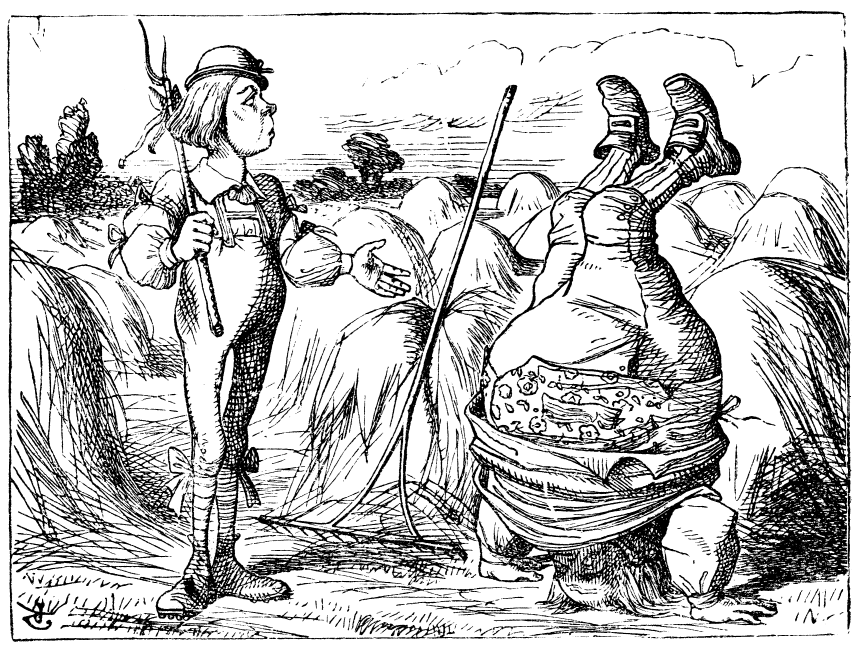 "Ihr seid alt, Vater Martin," so sprach Junker Tropf,
"Euer Haar ist schon lange ganz weiß;
Doch steht ihr so gerne noch auf dem Kopf.
Macht Euch denn das nicht zu heiß?"


'You are old, Father William,' the young man said,
'And your hair has become very white;
And yet you incessantly stand on your head—
Do you think, at your age, it is right?'


"Als ich jung war," der Vater zur Antwort gab,
"Da glaubt' ich, für's Hirn sei's nicht gut;
Doch seit ich entdeckt, daß ich gar keines hab',
So thu' ich's mit fröhlichem Muth."


'In my youth,' Father William replied to his son,
'I feared it might injure the brain;
But, now that I'm perfectly sure I have none,
Why, I do it again and again.'


"Ihr seid alt," sprach der Sohn, "wie vorhin schon gesagt,
Und geworden ein gar dicker Mann;
Drum sprecht, wie ihr rücklings den Purzelbaum schlagt.
Potz tausend! wie fangt ihr's nur an?"


'You are old,' said the youth, 'as I mentioned before,
And have grown most uncommonly fat;
Yet you turned a back-somersault in at the door—
Pray, what is the reason of that?'


"Als ich jung war," der Alte mit Kopfschütteln sagt',
"Da rieb ich die Glieder mir ein
Mit der Salbe hier, die sie geschmeidig macht.
Für zwei Groschen Courant ist sie dein."


'In my youth,' said the sage, as he shook his grey locks,
'I kept all my limbs very supple
By the use of this ointment—one shilling the box—
Allow me to sell you a couple?'


"Ihr seid alt," sprach der Bub', "und könnt nicht recht kau'n,
Und solltet euch nehmen in Acht;
Doch aßt ihr die Gans mit Schnabel und Klau'n;
Wie habt ihr das nur gemacht?"


'You are old,' said the youth, 'and your jaws are too weak
For anything tougher than suet;
Yet you finished the goose, with the bones and the beak—
Pray how did you manage to do it?'


"Ich war früher Jurist und hab' viel disputirt,
Besonders mit meiner Frau;
Das hat so mir die Kinnbacken einexercirt,
Daß ich jetzt noch mit Leichtigkeit kau!"


'In my youth,' said his father, 'I took to the law,
And argued each case with my wife;
And the muscular strength, which it gave to my jaw,
Has lasted the rest of my life.'


"Ihr seid alt," sagt der Sohn, "und habt nicht viel Witz,
Und doch seid ihr so geschickt;
Balancirt einen Aal auf der Nasenspitz'!
Wie ist euch das nur geglückt?"


'You are old,' said the youth, 'one would hardly suppose
That your eye was as steady as ever;
Yet you balanced an eel on the end of your nose—
What made you so awfully clever?'


"Drei Antworten hast du, und damit genug,
Nun laß mich kein Wort mehr hören;
Du Guck in die Welt thust so überklug,
Ich werde dich Mores lehren!"


'I have answered three questions, and that is enough,'
Said his father; 'don't give yourself airs!
Do you think I can listen all day to such stuff?
Be off, or I'll kick you down stairs!'


"Das ist nicht richtig," sagte die Raupe.
'That is not said right,' said the Caterpillar.
"Nicht ganz richtig, glaube ich," sagte Alice schüchtern; "manche Wörter sind anders gekommen."
'Not QUITE right, I'm afraid,' said Alice, timidly; 'some of the words have got altered.'
"Es ist von Anfang bis zu Ende falsch," sagte die Raupe mit Entschiedenheit, worauf eine Pause von einigen Minuten eintrat.
'It is wrong from beginning to end,' said the Caterpillar decidedly, and there was silence for some minutes.
Die Raupe sprach zuerst wieder.
The Caterpillar was the first to speak.
"Wie groß möchtest du gern sein?" fragte sie.
'What size do you want to be?' it asked.
"Oh, es kommt nicht so genau darauf an," erwiederte Alice schnell; "nur das viele Wechseln ist nicht angenehm, nicht wahr?"
'Oh, I'm not particular as to size,' Alice hastily replied; 'only one doesn't like changing so often, you know.'
"Nein, es ist nicht wahr!" sagte die Raupe.
'I DON'T know,' said the Caterpillar.
Alice antwortete nichts; es war ihr im Leben nicht so viel widersprochen worden, und sie fühlte, daß sie wieder anfing, empfindlich zu werden.
Alice said nothing: she had never been so much contradicted in her life before, and she felt that she was losing her temper.
"Bist du jetzt zufrieden?" sagte die Raupe.
'Are you content now?' said the Caterpillar.
"Etwas größer, Frau Raupe, wäre ich gern, wenn ich bitten darf," sagte Alice; "drei und einen halben Zoll ist gar zu winzig."
'Well, I should like to be a LITTLE larger, sir, if you wouldn't mind,' said Alice: 'three inches is such a wretched height to be.'
"Es ist eine sehr angenehme Größe, finde ich," sagte die Raupe zornig und richtete sich dabei in die Höhe (sie war gerade drei Zoll hoch).
'It is a very good height indeed!' said the Caterpillar angrily, rearing itself upright as it spoke (it was exactly three inches high).
"Aber ich bin nicht daran gewöhnt!" vertheidigte sich die arme Alice in weinerlichem Tone. Bei sich dachte sie: "Ich wünschte, alle diese Geschöpfe nähmen nicht Alles gleich übel."
'But I'm not used to it!' pleaded poor Alice in a piteous tone. And she thought of herself, 'I wish the creatures wouldn't be so easily offended!'
"Du wirst es mit der Zeit gewohnt werden," sagte die Raupe, steckte ihre Huhka in den Mund und fing wieder an zu rauchen.
'You'll get used to it in time,' said the Caterpillar; and it put the hookah into its mouth and began smoking again.
Diesmal wartete Alice geduldig, bis es ihr gefällig wäre zu reden. Nach zwei oder drei Minuten nahm die Raupe die Huhka aus dem Munde, gähnte ein bis zwei Mal und schüttelte sich. Dann kam sie von dem Pilze herunter, kroch in's Gras hinein und bemerkte blos bei'm Weggehen: "Die eine Seite macht dich größer, die andere Seite macht dich kleiner."
This time Alice waited patiently until it chose to speak again. In a minute or two the Caterpillar took the hookah out of its mouth and yawned once or twice, and shook itself. Then it got down off the mushroom, and crawled away in the grass, merely remarking as it went, 'One side will make you grow taller, and the other side will make you grow shorter.'
"Eine Seite wovon? die andere Seite wovon?" dachte Alice bei sich.
'One side of WHAT? The other side of WHAT?' thought Alice to herself.
"Von dem Pilz," sagte die Raupe, gerade als wenn sie laut gefragt hätte; und den nächsten Augenblick war sie nicht mehr zu sehen.
'Of the mushroom,' said the Caterpillar, just as if she had asked it aloud; and in another moment it was out of sight.
Alice blieb ein Weilchen gedankenvoll vor dem Pilze stehen, um ausfindig zu machen, welches seine beiden Seiten seien; und da er vollkommen rund war, so fand sie die Frage schwierig zu beantworten. Zuletzt aber reichte sie mit beiden Armen, so weit sie herum konnte, und brach mit jeder Hand etwas vom Rande ab.
Alice remained looking thoughtfully at the mushroom for a minute, trying to make out which were the two sides of it; and as it was perfectly round, she found this a very difficult question. However, at last she stretched her arms round it as far as they would go, and broke off a bit of the edge with each hand.
"Nun aber, welches ist das rechte?" sprach sie zu sich, und biß ein wenig von dem Stück in ihrer rechten Hand ab, um die Wirkung auszuprobiren; den nächsten Augenblick fühlte sie einen heftigen Schmerz am Kinn, es hatte an ihren Fuß angestoßen!
'And now which is which?' she said to herself, and nibbled a little of the right-hand bit to try the effect: the next moment she felt a violent blow underneath her chin: it had struck her foot!
Über diese plötzliche Verwandlung war sie sehr erschrocken, aber da war keine Zeit zu verlieren, da sie sehr schnell kleiner wurde; sie machte sich also gleich daran, etwas von dem andern Stück zu essen. Ihr Kinn war so dicht an ihren Fuß gedrückt, daß ihr kaum Platz genug blieb, den Mund aufzumachen; endlich aber gelang es ihr, ein wenig von dem Stück in ihrer linken Hand herunter zu schlucken.
She was a good deal frightened by this very sudden change, but she felt that there was no time to be lost, as she was shrinking rapidly; so she set to work at once to eat some of the other bit. Her chin was pressed so closely against her foot, that there was hardly room to open her mouth; but she did it at last, and managed to swallow a morsel of the lefthand bit.

"Ah! endlich ist mein Kopf frei!" rief Alice mit Entzücken, das sich jedoch den nächsten Augenblick in Angst verwandelte, da sie merkte, daß ihre Schultern nirgends zu finden waren: als sie hinunter sah, konnte sie weiter nichts erblicken, als einen ungeheuer langen Hals, der sich wie eine Stange aus einem Meer von grünen Blättern erhob, das unter ihr lag.
'Come, my head's free at last!' said Alice in a tone of delight, which changed into alarm in another moment, when she found that her shoulders were nowhere to be found: all she could see, when she looked down, was an immense length of neck, which seemed to rise like a stalk out of a sea of green leaves that lay far below her.
"Was mag all das grüne Zeug sein?" sagte Alice. "Und wo sind meine Schultern nur hingekommen? Und ach, meine armen Hände, wie geht es zu, daß ich euch nicht sehen kann?" Sie griff bei diesen Worten um sich, aber es erfolgte weiter nichts, als eine kleine Bewegung in den entfernten grünen Blättern.
'What CAN all that green stuff be?' said Alice. 'And where HAVE my shoulders got to? And oh, my poor hands, how is it I can't see you?' She was moving them about as she spoke, but no result seemed to follow, except a little shaking among the distant green leaves.
Da es ihr nicht gelang, die Hände zu ihrem Kopfe zu erheben, so versuchte sie, den Kopf zu ihnen hinunter zu bücken, und fand zu ihrem Entzücken, daß sie ihren Hals in allen Richtungen biegen und wenden konnte, wie eine Schlange. Sie hatte ihn gerade in ein malerisches Zickzack gewunden und wollte eben in das Blättermeer hinunter tauchen, das, wie sie sah, durch die Gipfel der Bäume gebildet wurde, unter denen sie noch eben herumgewandert war, als ein lautes Rauschen sie plötzlich zurückschreckte: eine große Taube kam ihr in's Gesicht geflogen und schlug sie heftig mit den Flügeln.
As there seemed to be no chance of getting her hands up to her head, she tried to get her head down to them, and was delighted to find that her neck would bend about easily in any direction, like a serpent. She had just succeeded in curving it down into a graceful zigzag, and was going to dive in among the leaves, which she found to be nothing but the tops of the trees under which she had been wandering, when a sharp hiss made her draw back in a hurry: a large pigeon had flown into her face, and was beating her violently with its wings.
"Schlange!" kreischte die Taube.
'Serpent!' screamed the Pigeon.
"Ich bin keine Schlange!" sagte Alice mit Entrüstung. "Laß mich in Ruhe!"
'I'm NOT a serpent!' said Alice indignantly. 'Let me alone!'
"Schlange sage ich!" wiederholte die Taube, aber mit gedämpfter Stimme, und fuhr schluchzend fort: "Alles habe ich versucht, und nichts ist ihnen genehm!"
'Serpent, I say again!' repeated the Pigeon, but in a more subdued tone, and added with a kind of sob, 'I've tried every way, and nothing seems to suit them!'
"Ich weiß gar nicht, wovon du redest," sagte Alice.
'I haven't the least idea what you're talking about,' said Alice.
"Baumwurzeln habe ich versucht, Flußufer habe ich versucht, Hecken habe ich versucht," sprach die Taube weiter, ohne auf sie zu achten; "aber diese Schlangen! Nichts ist ihnen recht!"
'I've tried the roots of trees, and I've tried banks, and I've tried hedges,' the Pigeon went on, without attending to her; 'but those serpents! There's no pleasing them!'
Alice verstand immer weniger; aber sie dachte, es sei unnütz etwas zu sagen, bis die Taube fertig wäre.
Alice was more and more puzzled, but she thought there was no use in saying anything more till the Pigeon had finished.
"Als ob es nicht Mühe genug wäre, die Eier auszubrüten," sagte die Taube, "da muß ich noch Tag und Nacht den Schlangen aufpassen! Kein Auge habe ich die letzten drei Wochen zugethan!"
'As if it wasn't trouble enough hatching the eggs,' said the Pigeon; 'but I must be on the look-out for serpents night and day! Why, I haven't had a wink of sleep these three weeks!'
"Es thut mir sehr leid, daß du so viel Verdruß gehabt hast," sagte Alice, die zu verstehen anfing, was sie meinte.
'I'm very sorry you've been annoyed,' said Alice, who was beginning to see its meaning.
"Und gerade da ich mir den höchsten Baum im Walde ausgesucht habe," fuhr die Taube mit erhobener Stimme fort, "und gerade da ich dachte, ich wäre sie endlich los, müssen sie sich sogar noch vom Himmel herunterwinden! Pfui! Schlange!"
'And just as I'd taken the highest tree in the wood,' continued the Pigeon, raising its voice to a shriek, 'and just as I was thinking I should be free of them at last, they must needs come wriggling down from the sky! Ugh, Serpent!'
"Aber ich bin keine Schlange, sage ich dir!" rief Alice, "ich bin ein – ich bin ein –"
'But I'm NOT a serpent, I tell you!' said Alice. 'I'm a—I'm a—'
"Nun, was bist du denn?" fragte die Taube. "Ich merke wohl, daß du dir etwas ausdenken willst!"
'Well! WHAT are you?' said the Pigeon. 'I can see you're trying to invent something!'
"Ich – ich bin ein kleines Mädchen," sagte Alice etwas unsicher, da sie an die vielfachen Verwandlungen dachte, die sie den Tag über schon durchgemacht hatte.
'I—I'm a little girl,' said Alice, rather doubtfully, as she remembered the number of changes she had gone through that day.
"Eine schöne Ausrede, wahrhaftig!" sagte die Taube im Tone tiefster Verachtung. "Ich habe mein Lebtag genug kleine Mädchen gesehen, aber nie eine mit solch einem Hals! Nein, nein! du bist eine Schlange! das kannst du nicht abläugnen. Du wirst am Ende noch behaupten, daß du nie ein Ei gegessen hast."
'A likely story indeed!' said the Pigeon in a tone of the deepest contempt. 'I've seen a good many little girls in my time, but never ONE with such a neck as that! No, no! You're a serpent; and there's no use denying it. I suppose you'll be telling me next that you never tasted an egg!'
"Ich habe Eier gegessen, freilich," sagte Alice, die ein sehr wahrheitsliebendes Kind war; "aber kleine Mädchen essen Eier eben so gut wie Schlangen."
'I HAVE tasted eggs, certainly,' said Alice, who was a very truthful child; 'but little girls eat eggs quite as much as serpents do, you know.'
"Das glaube ich nicht," sagte die Taube; "wenn sie es aber thun, nun dann sind sie eine Art Schlangen, so viel weiß ich."
'I don't believe it,' said the Pigeon; 'but if they do, why then they're a kind of serpent, that's all I can say.'
Das war etwas so Neues für Alice, daß sie ein Paar Minuten ganz still schwieg; die Taube benutzte die Gelegenheit und fuhr fort: "Du suchst Eier, das weiß ich nur zu gut, und was kümmert es mich, ob du ein kleines Mädchen oder eine Schlange bist?"
This was such a new idea to Alice, that she was quite silent for a minute or two, which gave the Pigeon the opportunity of adding, 'You're looking for eggs, I know THAT well enough; and what does it matter to me whether you're a little girl or a serpent?'
"Aber mich kümmert es sehr," sagte Alice schnell; "übrigens suche ich zufällig nicht Eier, und wenn ich es thäte, so würde ich deine nicht brauchen können; ich esse sie nicht gern roh."
'It matters a good deal to ME,' said Alice hastily; 'but I'm not looking for eggs, as it happens; and if I was, I shouldn't want YOURS: I don't like them raw.'
"Dann mach', daß du fortkommst!" sagte die Taube verdrießlich, indem sie sich in ihrem Nest wieder zurecht setzte. Alice duckte sich unter die Bäume so gut sie konnte; denn ihr Hals verwickelte sich fortwährend in die Zweige, und mehre Male mußte sie anhalten und ihn losmachen. Nach einer Weile fiel es ihr wieder ein, daß sie noch die Stückchen Pilz in den Händen hatte, und sie machte sich sorgfältig daran, knabberte bald an dem einen, bald an dem andern, und wurde abwechselnd größer und kleiner, bis es ihr zuletzt gelang, ihre gewöhnliche Größe zu bekommen.
'Well, be off, then!' said the Pigeon in a sulky tone, as it settled down again into its nest. Alice crouched down among the trees as well as she could, for her neck kept getting entangled among the branches, and every now and then she had to stop and untwist it. After a while she remembered that she still held the pieces of mushroom in her hands, and she set to work very carefully, nibbling first at one and then at the other, and growing sometimes taller and sometimes shorter, until she had succeeded in bringing herself down to her usual height.
Es war so lange her, daß sie auch nur ungefähr ihre richtige Höhe gehabt hatte, daß es ihr erst ganz komisch vorkam; aber nach einigen Minuten hatte sie sich daran gewöhnt und sprach mit sich selbst wie gewöhnlich. "Schön, nun ist mein Plan halb ausgeführt! Wie verwirrt man von dem vielen Wechseln wird! Ich weiß nie, wie ich den nächsten Augenblick sein werde! Doch jetzt habe ich meine richtige Größe: nun kommt es darauf an, in den schönen Garten zu gelangen – wie kann ich das anstellen? das möchte ich wissen!" Wie sie dies sagte, kam sie in eine Lichtung mit einem Häuschen in der Mitte, ungefähr vier Fuß hoch. "Wer auch darin wohnen mag, es geht nicht an, daß ich so groß wie ich jetzt bin hineingehe: sie würden vor Angst nicht wissen wohin!" Also knabberte sie wieder an dem Stückchen in der rechten Hand, und wagte sich nicht an das Häuschen heran, bis sie sich auf neun Zoll herunter gebracht hatte.
It was so long since she had been anything near the right size, that it felt quite strange at first; but she got used to it in a few minutes, and began talking to herself, as usual. 'Come, there's half my plan done now! How puzzling all these changes are! I'm never sure what I'm going to be, from one minute to another! However, I've got back to my right size: the next thing is, to get into that beautiful garden—how IS that to be done, I wonder?' As she said this, she came suddenly upon an open place, with a little house in it about four feet high. 'Whoever lives there,' thought Alice, 'it'll never do to come upon them THIS size: why, I should frighten them out of their wits!' So she began nibbling at the righthand bit again, and did not venture to go near the house till she had brought herself down to nine inches high.
Text from wikisource.org
Audio from LibreVox.org
Text from wikisource.org
Audio from LibreVox.org