Alice's Abenteuer im Wunderland
Alice's Adventures in Wonderland
Achtes Kapitel.
CHAPTER VIII.
Das Croquetfeld der Königin.
The Queen's Croquet-Ground
Ein großer hochstämmiger Rosenstrauch stand nahe bei'm Eingang; die Rosen, die darauf wuchsen, waren weiß, aber drei Gärtner waren damit beschäftigt, sie roth zu malen. Alice kam dies wunderbar vor, und da sie näher hinzutrat, um ihnen zuzusehen, hörte sie einen von ihnen sagen: "Nimm dich in Acht, Fünf! Bespritze mich nicht so mit Farbe!"
A large rose-tree stood near the entrance of the garden: the roses growing on it were white, but there were three gardeners at it, busily painting them red. Alice thought this a very curious thing, and she went nearer to watch them, and just as she came up to them she heard one of them say, 'Look out now, Five! Don't go splashing paint over me like that!'
"Ich konnte nicht dafür," sagte Fünf in verdrießlichem Tone; "Sieben hat mich an den Ellbogen gestoßen."
'I couldn't help it,' said Five, in a sulky tone; 'Seven jogged my elbow.'
Worauf Sieben aufsah und sagte: "Recht so, Fünf! Schiebe immer die Schuld auf andre Leute!"
On which Seven looked up and said, 'That's right, Five! Always lay the blame on others!'
"Du sei nur ganz still!" sagte Fünf. "Gestern erst hörte ich die Königin sagen, du verdientest geköpft zu werden!"
'YOU'D better not talk!' said Five. 'I heard the Queen say only yesterday you deserved to be beheaded!'
"Wofür?" fragte der, welcher zuerst gesprochen hatte.
'What for?' said the one who had spoken first.
"Das geht dich nichts an, Zwei!" sagte Sieben.
'That's none of YOUR business, Two!' said Seven.
"Ja, es geht ihn an!" sagte Fünf, "und ich werde es ihm sagen – dafür, daß er dem Koch Tulpenzwiebeln statt Küchenzwiebeln gebracht hat."
'Yes, it IS his business!' said Five, 'and I'll tell him—it was for bringing the cook tulip-roots instead of onions.'
Sieben warf seinen Pinsel hin und hatte eben angefangen: "Ist je eine ungerechtere Anschuldigung –" als sein Auge zufällig auf Alice fiel, die ihnen zuhörte; er hielt plötzlich inne, die andern sahen sich auch um, und sie verbeugten sich Alle tief.
Seven flung down his brush, and had just begun 'Well, of all the unjust things—' when his eye chanced to fall upon Alice, as she stood watching them, and he checked himself suddenly: the others looked round also, and all of them bowed low.
"Wollen Sie so gut sein, mir zu sagen," sprach Alice etwas furchtsam, "warum Sie diese Rosen malen?"
'Would you tell me,' said Alice, a little timidly, 'why you are painting those roses?'
Fünf und Sieben antworteten nichts, sahen aber Zwei an. Zwei fing mit leiser Stimme an: "Die Wahrheit zu gestehen, Fräulein, dies hätte hier ein rother Rosenstrauch sein sollen, und wir haben aus Versehen einen weißen gepflanzt, und wenn die Königin es gewahr würde, würden wir Alle geköpft werden, müssen Sie wissen. So, sehen Sie Fräulein, versuchen wir, so gut es geht, ehe sie kommt –" In dem Augenblick rief Fünf, der ängstlich tiefer in den Garten hinein gesehen hatte: "Die Königin! die Königin!" und die drei Gärtner warfen sich sogleich flach auf's Gesicht. Es entstand ein Geräusch von vielen Schritten, und Alice blickte neugierig hin, die Königin zu sehen.
Five and Seven said nothing, but looked at Two. Two began in a low voice, 'Why the fact is, you see, Miss, this here ought to have been a RED rose-tree, and we put a white one in by mistake; and if the Queen was to find it out, we should all have our heads cut off, you know. So you see, Miss, we're doing our best, afore she comes, to—' At this moment Five, who had been anxiously looking across the garden, called out 'The Queen! The Queen!' and the three gardeners instantly threw themselves flat upon their faces. There was a sound of many footsteps, and Alice looked round, eager to see the Queen.
Zuerst kamen zehn Soldaten, mit Keulen bewaffnet, sie hatten alle dieselbe Gestalt wie die Gärtner, rechteckig und flach, und an den vier Ecken die Hände und Füße; danach kamen zehn Herren vom Hofe, sie waren über und über mit Diamanten bedeckt und gingen paarweise, wie die Soldaten. Nach diesen kamen die königlichen Kinder, es waren ihrer zehn, und die lieben Kleinen kamen lustig gesprungen Hand in Hand, paarweise, sie waren ganz mit Herzen geschmückt. Darauf kamen die Gäste, meist Könige und Königinnen, und unter ihnen erkannte Alice das weiße Kaninchen; es unterhielt sich in etwas eiliger und aufgeregter Weise, lächelte bei Allem, was gesagt wurde und ging vorbei, ohne sie zu bemerken. Darauf folgte der Coeur-Bube, der die königliche Krone auf einem rothen Sammetkissen trug, und zuletzt in diesem großartigen Zuge kamen der Herzenskönig und die Herzenskönigin.
First came ten soldiers carrying clubs; these were all shaped like the three gardeners, oblong and flat, with their hands and feet at the corners: next the ten courtiers; these were ornamented all over with diamonds, and walked two and two, as the soldiers did. After these came the royal children; there were ten of them, and the little dears came jumping merrily along hand in hand, in couples: they were all ornamented with hearts. Next came the guests, mostly Kings and Queens, and among them Alice recognised the White Rabbit: it was talking in a hurried nervous manner, smiling at everything that was said, and went by without noticing her. Then followed the Knave of Hearts, carrying the King's crown on a crimson velvet cushion; and, last of all this grand procession, came THE KING AND QUEEN OF HEARTS.
Alice wußte nicht recht, ob sie sich nicht flach auf's Gesicht legen müsse, wie die drei Gärtner; aber sie konnte sich nicht erinnern, je von einer solchen Sitte bei Festzügen gehört zu haben. "Und außerdem, wozu gäbe es überhaupt Aufzüge," dachte sie, "wenn alle Leute flach auf dem Gesichte liegen müßten, so daß sie sie nicht sehen könnten?" Sie blieb also stehen, wo sie war, und wartete.
Alice was rather doubtful whether she ought not to lie down on her face like the three gardeners, but she could not remember ever having heard of such a rule at processions; 'and besides, what would be the use of a procession,' thought she, 'if people had all to lie down upon their faces, so that they couldn't see it?' So she stood still where she was, and waited.
Als der Zug bei ihr angekommen war, blieben Alle stehen und sahen sie an, und die Königin sagte strenge: "Wer ist das?" Sie hatte den Coeur-Buben gefragt, der statt aller Antwort nur lächelte und Kratzfüße machte.
When the procession came opposite to Alice, they all stopped and looked at her, and the Queen said severely 'Who is this?' She said it to the Knave of Hearts, who only bowed and smiled in reply.
"Schafskopf!" sagte die Königin, den Kopf ungeduldig zurückwerfend; und zu Alice gewandt fuhr sie fort: "Wie heißt du, Kind?"
'Idiot!' said the Queen, tossing her head impatiently; and, turning to Alice, she went on, 'What's your name, child?'
"Mein Name ist Alice, Euer Majestät zu dienen!" sagte Alice sehr höflich; aber sie dachte bei sich: "Ach was, es ist ja nur ein Pack Karten. Ich brauche mich nicht vor ihnen zu fürchten!"
'My name is Alice, so please your Majesty,' said Alice very politely; but she added, to herself, 'Why, they're only a pack of cards, after all. I needn't be afraid of them!'
"Und wer sind diese drei?" fuhr die Königin fort, indem sie auf die drei Gärtner zeigte, die um den Rosenstrauch lagen; denn natürlich, da sie auf dem Gesichte lagen und das Muster auf ihrer Rückseite dasselbe war wie für das ganze Pack, so konnte sie nicht wissen, ob es Gärtner oder Soldaten oder Herren vom Hofe oder drei von ihren eigenen Kindern waren.
'And who are THESE?' said the Queen, pointing to the three gardeners who were lying round the rosetree; for, you see, as they were lying on their faces, and the pattern on their backs was the same as the rest of the pack, she could not tell whether they were gardeners, or soldiers, or courtiers, or three of her own children.
"Woher soll ich das wissen?" sagte Alice, indem sie sich selbst über ihren Muth wunderte. "Es ist nicht meines Amtes."
'How should I know?' said Alice, surprised at her own courage. 'It's no business of MINE.'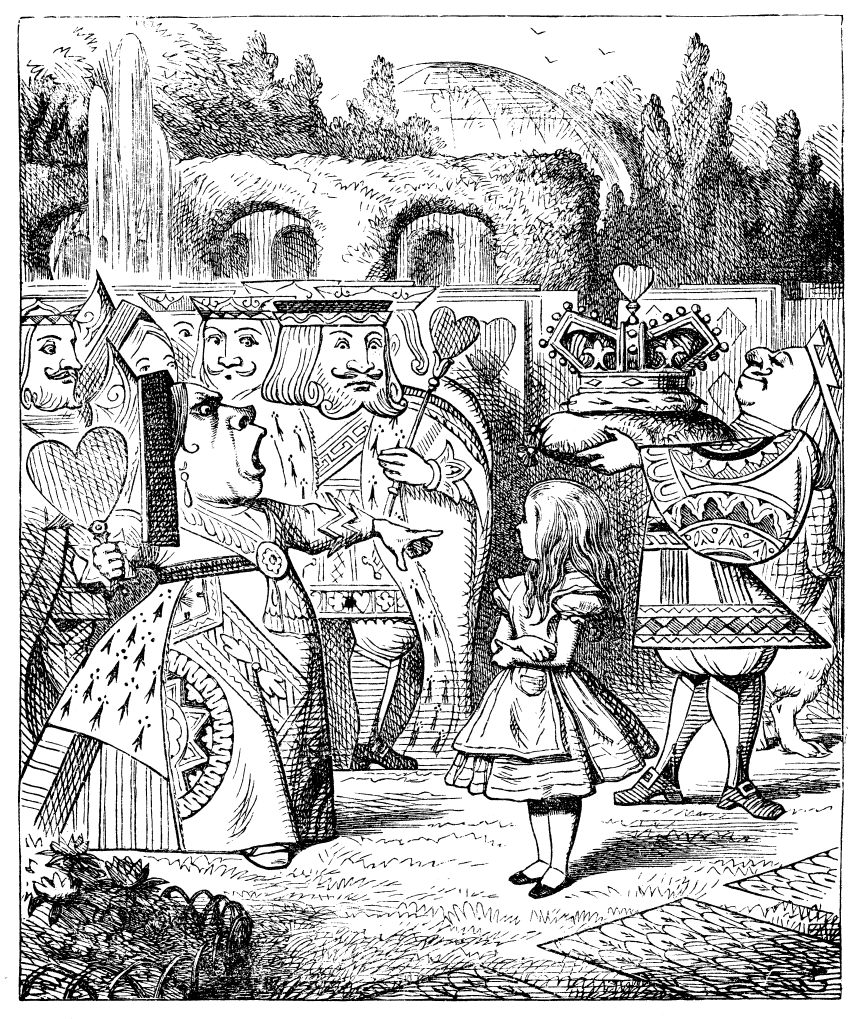 Die Königin wurde purpurroth vor Wuth, und nachdem sie sie einen Augenblick wie ein wildes Thier angestarrt hatte, fing sie an zu brüllen: "Ihren Kopf ab! ihren Kopf –"
The Queen turned crimson with fury, and, after glaring at her for a moment like a wild beast, screamed 'Off with her head! Off—'
"Unsinn!" sagte Alice sehr laut und bestimmt, und die Königin war still.
'Nonsense!' said Alice, very loudly and decidedly, and the Queen was silent.
Der König legte seine Hand auf ihren Arm und sagte milde: "Bedenke, meine Liebe, es ist nur ein Kind!"
The King laid his hand upon her arm, and timidly said 'Consider, my dear: she is only a child!'
Die Königin wandte sich ärgerlich von ihm ab und sagte zu dem Buben: "Dreh' sie um!"
The Queen turned angrily away from him, and said to the Knave 'Turn them over!'
Der Bube that es, sehr sorgfältig, mit einem Fuße.
The Knave did so, very carefully, with one foot.
"Steht auf!" schrie die Königin mit durchdringender Stimme, und die drei Gärtner sprangen sogleich auf und fingen an sich zu verneigen vor dem König, der Königin, den königlichen Kindern, und Jedermann.
'Get up!' said the Queen, in a shrill, loud voice, and the three gardeners instantly jumped up, and began bowing to the King, the Queen, the royal children, and everybody else.
"Laßt das sein!" eiferte die Königin. "Ihr macht mich schwindlig." Und dann, sich nach dem Rosenstrauch umdrehend, fuhr sie fort: "Was habt ihr hier gethan?"
'Leave off that!' screamed the Queen. 'You make me giddy.' And then, turning to the rose-tree, she went on, 'What HAVE you been doing here?'
"Euer Majestät zu dienen," sagte Zwei in sehr demüthigem Tone und sich auf ein Knie niederlassend, "wir haben versucht –"
'May it please your Majesty,' said Two, in a very humble tone, going down on one knee as he spoke, 'we were trying—'
"Ich sehe!" sagte die Königin, die unterdessen die Rosen untersucht hatte. "Ihre Köpfe ab!" und der Zug bewegte sich fort, während drei von den Soldaten zurückblieben um die unglücklichen Gärtner zu enthaupten, welche zu Alice liefen und sie um Schutz baten.
'I see!' said the Queen, who had meanwhile been examining the roses. 'Off with their heads!' and the procession moved on, three of the soldiers remaining behind to execute the unfortunate gardeners, who ran to Alice for protection.
"Ihr sollt nicht getödtet werden!" sagte Alice, und damit steckte sie sie in einen großen Blumentopf, der in der Nähe stand. Die drei Soldaten gingen ein Weilchen hier- und dorthin, um sie zu suchen, und dann schlossen sie sich ruhig wieder den Andern an.
'You shan't be beheaded!' said Alice, and she put them into a large flower-pot that stood near. The three soldiers wandered about for a minute or two, looking for them, and then quietly marched off after the others.
"Sind ihre Köpfe gefallen?" schrie die Königin sie an.
'Are their heads off?' shouted the Queen.
"Ihre Köpfe sind fort, zu Euer Majestät Befehl!" schrien die Soldaten als Antwort.
'Their heads are gone, if it please your Majesty!' the soldiers shouted in reply.
"Das ist gut!" schrie die Königin. "Kannst du Croquet spielen?"
'That's right!' shouted the Queen. 'Can you play croquet?'
Die Soldaten waren still und sahen Alice an, da die Frage augenscheinlich an sie gerichtet war.
The soldiers were silent, and looked at Alice, as the question was evidently meant for her.
"Dann komm mit!" brüllte die Königin, und Alice schloß sich dem Zuge an, sehr neugierig, was nun geschehen werde.
'Come on, then!' roared the Queen, and Alice joined the procession, wondering very much what would happen next.
"Es ist – es ist ein sehr schöner Tag!" sagte eine schüchterne Stimme neben ihr. Sie ging neben dem weißen Kaninchen, das ihr ängstlich in's Gesicht sah.
'It's—it's a very fine day!' said a timid voice at her side. She was walking by the White Rabbit, who was peeping anxiously into her face.
"Sehr," sagte Alice; – "wo ist die Herzogin?"
'Very,' said Alice: '—where's the Duchess?'
"Still! still!" sagte das Kaninchen in einem leisen, schnellen Tone. Es sah dabei ängstlich über seine Schulter, stellte sich dann auf die Zehen, hielt den Mund dicht an Alice's Ohr und wisperte: "Sie ist zum Tode verurtheilt."
'Hush! Hush!' said the Rabbit in a low, hurried tone. He looked anxiously over his shoulder as he spoke, and then raised himself upon tiptoe, put his mouth close to her ear, and whispered 'She's under sentence of execution.'
"Sagtest du: wie Schade?" fragte das Kaninchen.
'Did you say "What a pity!"?' the Rabbit asked.
"Nein, das sagte ich nicht," sagte Alice, "ich finde gar nicht, daß es Schade ist. Ich sagte: wofür?"
'No, I didn't,' said Alice: 'I don't think it's at all a pity. I said "What for?"'
"Sie hat der Königin eine Ohrfeige gegeben –" fing das Kaninchen an. Alice lachte hörbar. "Oh still!" flüsterte das Kaninchen in sehr erschrecktem Tone. "Die Königin wird dich hören! Sie kam nämlich etwas spät, und die Königin sagte –"
'She boxed the Queen's ears—' the Rabbit began. Alice gave a little scream of laughter. 'Oh, hush!' the Rabbit whispered in a frightened tone. 'The Queen will hear you! You see, she came rather late, and the Queen said—'
"Macht, daß ihr an eure Plätze kommt!" donnerte die Königin, und Alle fingen an in allen Richtungen durcheinander zu laufen, wobei sie Einer über den Andern stolperten; jedoch nach ein bis zwei Minuten waren sie in Ordnung, und das Spiel fing an. Alice dachte bei sich, ein so merkwürdiges Croquet-Feld habe sie in ihrem Leben nicht gesehen; es war voller Erhöhungen und Furchen, die Kugeln waren lebendige Igel, und die Schlägel lebendige Flamingos, und die Soldaten mußten sich umbiegen und auf Händen und Füßen stehen, um die Bogen zu bilden.
'Get to your places!' shouted the Queen in a voice of thunder, and people began running about in all directions, tumbling up against each other; however, they got settled down in a minute or two, and the game began. Alice thought she had never seen such a curious croquet-ground in her life; it was all ridges and furrows; the balls were live hedgehogs, the mallets live flamingoes, and the soldiers had to double themselves up and to stand on their hands and feet, to make the arches.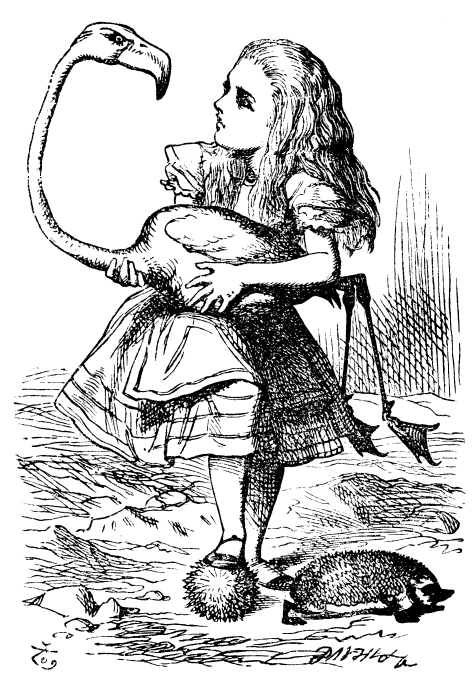 Die Hauptschwierigkeit, die Alice zuerst fand, war, den Flamingo zu handhaben; sie konnte zwar ziemlich bequem seinen Körper unter ihrem Arme festhalten, so daß die Füße herunterhingen, aber wenn sie eben seinen Hals schön ausgestreckt hatte, und dem Igel nun einen Schlag mit seinem Kopf geben wollte, so richtete er sich auf und sah ihr mit einem so verdutzten Ausdruck in's Gesicht, daß sie sich nicht enthalten konnte laut zu lachen. Wenn sie nun seinen Kopf herunter gebogen hatte und eben wieder anfangen wollte zu spielen, so fand sie zu ihrem großen Verdruß, daß der Igel sich aufgerollt hatte und eben fortkroch; außerdem war gewöhnlich eine Erhöhung oder eine Furche gerade da im Wege, wo sie den Igel hinrollen wollte, und da die umgebogenen Soldaten fortwährend aufstanden und an eine andere Stelle des Grasplatzes gingen, so kam Alice bald zu der Überzeugung, daß es wirklich ein sehr schweres Spiel sei.
The chief difficulty Alice found at first was in managing her flamingo: she succeeded in getting its body tucked away, comfortably enough, under her arm, with its legs hanging down, but generally, just as she had got its neck nicely straightened out, and was going to give the hedgehog a blow with its head, it WOULD twist itself round and look up in her face, with such a puzzled expression that she could not help bursting out laughing: and when she had got its head down, and was going to begin again, it was very provoking to find that the hedgehog had unrolled itself, and was in the act of crawling away: besides all this, there was generally a ridge or furrow in the way wherever she wanted to send the hedgehog to, and, as the doubled-up soldiers were always getting up and walking off to other parts of the ground, Alice soon came to the conclusion that it was a very difficult game indeed.
Die Spieler spielten Alle zugleich, ohne zu warten, bis sie an der Reihe waren; dabei stritten sie sich immerfort und zankten um die Igel, und in sehr kurzer Zeit war die Königin in der heftigsten Wuth, stampfte mit den Füßen und schrie: "Schlagt ihm den Kopf ab!" oder: "Schlagt ihr den Kopf ab!" ungefähr ein Mal jede Minute.
The players all played at once without waiting for turns, quarrelling all the while, and fighting for the hedgehogs; and in a very short time the Queen was in a furious passion, and went stamping about, and shouting 'Off with his head!' or 'Off with her head!' about once in a minute.
Alice fing an, sich sehr unbehaglich zu fühlen, sie hatte zwar noch keinen Streit mit der Königin gehabt, aber sie wußte, daß sie keinen Augenblick sicher davor war, "und was," dachte sie, "würde dann aus mir werden? die Leute hier scheinen schrecklich gern zu köpfen; es ist das größte Wunder, daß überhaupt noch welche am Leben geblieben sind!"
Alice began to feel very uneasy: to be sure, she had not as yet had any dispute with the Queen, but she knew that it might happen any minute, 'and then,' thought she, 'what would become of me? They're dreadfully fond of beheading people here; the great wonder is, that there's any one left alive!'
Sie sah sich nach einem Ausgange um und überlegte, ob sie sich wohl ohne gesehen zu werden, fortschleichen könne, als sie eine merkwürdige Erscheinung in der Luft wahrnahm: sie schien ihr zuerst ganz räthselhaft, aber nachdem sie sie ein Paar Minuten beobachtet hatte, erkannte sie, daß es ein Grinsen war, und sagte bei sich: "Es ist die Grinse-Katze; jetzt werde ich Jemand haben, mit dem ich sprechen kann."
She was looking about for some way of escape, and wondering whether she could get away without being seen, when she noticed a curious appearance in the air: it puzzled her very much at first, but, after watching it a minute or two, she made it out to be a grin, and she said to herself 'It's the Cheshire Cat: now I shall have somebody to talk to.'
"Wie geht es dir?" sagte die Katze, sobald Mund genug da war, um damit zu sprechen.
'How are you getting on?' said the Cat, as soon as there was mouth enough for it to speak with.
Alice wartete, bis die Augen erschienen, und nickte ihr zu. "Es nützt nichts mit ihr zu reden," dachte sie, "bis ihre Ohren gekommen sind, oder wenigstens eins." Den nächsten Augenblick erschien der ganze Kopf; da setzte Alice ihren Flamingo nieder und fing ihren Bericht von dem Spiele an, sehr froh, daß sie Jemand zum Zuhören hatte. Die Katze schien zu glauben, daß jetzt genug von ihr sichtbar sei, und es erschien weiter nichts.
Alice waited till the eyes appeared, and then nodded. 'It's no use speaking to it,' she thought, 'till its ears have come, or at least one of them.' In another minute the whole head appeared, and then Alice put down her flamingo, and began an account of the game, feeling very glad she had someone to listen to her. The Cat seemed to think that there was enough of it now in sight, and no more of it appeared.
"Ich glaube, sie spielen gar nicht gerecht," fing Alice in etwas klagendem Tone an, "und sie zanken sich Alle so entsetzlich, daß man sein eigenes Wort nicht hören kann – und dann haben sie gar keine Spielregeln, wenigstens wenn sie welche haben, so beobachtet sie Niemand – und du hast keine Idee, wie es Einen verwirrt, daß alle Croquet-Sachen lebendig sind; zum Beispiel da ist der Bogen, durch den ich das nächste Mal spielen muß, und geht am andern Ende des Grasplatzes spazieren – und ich hätte den Igel der Königin noch eben treffen können, nur daß er fortrannte, als er meinen kommen sah!"
'I don't think they play at all fairly,' Alice began, in rather a complaining tone, 'and they all quarrel so dreadfully one can't hear oneself speak—and they don't seem to have any rules in particular; at least, if there are, nobody attends to them—and you've no idea how confusing it is all the things being alive; for instance, there's the arch I've got to go through next walking about at the other end of the ground—and I should have croqueted the Queen's hedgehog just now, only it ran away when it saw mine coming!'
"Wie gefällt dir die Königin?" fragte die Katze leise.
'How do you like the Queen?' said the Cat in a low voice.
"Ganz und gar nicht," sagte Alice, "sie hat so sehr viel –" da bemerkte sie eben, daß die Königin dicht hinter ihr war und zuhörte, also setzte sie hinzu: "Aussicht zu gewinnen, daß es kaum der Mühe werth ist, das Spiel auszuspielen."
'Not at all,' said Alice: 'she's so extremely—' Just then she noticed that the Queen was close behind her, listening: so she went on, '—likely to win, that it's hardly worth while finishing the game.'
Die Königin lächelte und ging weiter.
The Queen smiled and passed on.
"Mit wem redest du da?" sagte der König, indem er an Alice herantrat und mit großer Neugierde den Katzenkopf ansah.
'Who ARE you talking to?' said the King, going up to Alice, and looking at the Cat's head with great curiosity.
"Es ist einer meiner Freunde – ein Grinse-Kater," sagte Alice; "erlauben Eure Majestät, daß ich ihn Ihnen vorstelle."
'It's a friend of mine—a Cheshire Cat,' said Alice: 'allow me to introduce it.'
"Sein Aussehen gefällt mir gar nicht," sagte der König; "er mag mir jedoch die Hand küssen, wenn er will."
'I don't like the look of it at all,' said the King: 'however, it may kiss my hand if it likes.'
"O, lieber nicht!" versetzte der Kater.
'I'd rather not,' the Cat remarked.
"Sei nicht so impertinent," sagte der König, "und sieh mich nicht so an!" Er stellte sich hinter Alice, als er dies sagte.
'Don't be impertinent,' said the King, 'and don't look at me like that!' He got behind Alice as he spoke.
"Der Kater sieht den König an, der König sieht den Kater an," sagte Alice, "das habe ich irgendwo gelesen, ich weiß nur nicht mehr wo."
'A cat may look at a king,' said Alice. 'I've read that in some book, but I don't remember where.'
"Fort muß er," sagte der König sehr entschieden, und rief der Königin zu, die gerade vorbeiging: "Meine Liebe! ich wollte, du ließest diesen Kater fortschaffen!"
'Well, it must be removed,' said the King very decidedly, and he called the Queen, who was passing at the moment, 'My dear! I wish you would have this cat removed!'
Die Königin kannte nur eine Art, alle Schwierigkeiten, große und kleine, zu beseitigen. "Schlagt ihm den Kopf ab!" sagte sie, ohne sich einmal umzusehen.
The Queen had only one way of settling all difficulties, great or small. 'Off with his head!' she said, without even looking round.
"Ich werde den Henker selbst holen," sagte der König eifrig und eilte fort.
'I'll fetch the executioner myself,' said the King eagerly, and he hurried off.
Alice dachte, sie wollte lieber zurück gehen und sehen, wie es mit dem Spiele stehe, da sie in der Entfernung die Stimme der Königin hörte, die vor Wuth außer sich war. Sie hatte sie schon drei Spieler zum Tode verurtheilen hören, weil sie ihre Reihe verfehlt hatten, und der Stand der Dinge behagte ihr gar nicht, da das Spiel in solcher Verwirrung war, daß sie nie wußte, ob sie an der Reihe sei oder nicht. Sie ging also, sich nach ihrem Igel umzusehen.
Alice thought she might as well go back, and see how the game was going on, as she heard the Queen's voice in the distance, screaming with passion. She had already heard her sentence three of the players to be executed for having missed their turns, and she did not like the look of things at all, as the game was in such confusion that she never knew whether it was her turn or not. So she went in search of her hedgehog.
Der Igel war im Kampfe mit einem andern Igel, was Alice eine vortreffliche Gelegenheit schien, einen mit dem andern zu treffen; die einzige Schwierigkeit war, daß ihr Flamingo nach dem andern Ende des Gartens gegangen war, wo Alice eben sehen konnte, wie er höchst ungeschickt versuchte, auf einen Baum zu fliegen.
The hedgehog was engaged in a fight with another hedgehog, which seemed to Alice an excellent opportunity for croqueting one of them with the other: the only difficulty was, that her flamingo was gone across to the other side of the garden, where Alice could see it trying in a helpless sort of way to fly up into a tree.
Als sie den Flamingo gefangen und zurückgebracht hatte, war der Kampf vorüber und die beiden Igel nirgends zu sehen. "Aber es kommt nicht drauf an," dachte Alice, "da alle Bogen auf dieser Seite des Grasplatzes fortgegangen sind." Sie steckte also ihren Flamingo unter den Arm, damit er nicht wieder fortliefe, und ging zurück, um mit ihrem Freunde weiter zu schwatzen.
By the time she had caught the flamingo and brought it back, the fight was over, and both the hedgehogs were out of sight: 'but it doesn't matter much,' thought Alice, 'as all the arches are gone from this side of the ground.' So she tucked it away under her arm, that it might not escape again, and went back for a little more conversation with her friend.
Als sie zum Cheshire-Kater zurück kam, war sie sehr erstaunt, einen großen Auflauf um ihn versammelt zu sehen: es fand ein großer Wortwechsel statt zwischen dem Henker, dem Könige und der Königin, welche alle drei zugleich sprachen, während die Übrigen ganz still waren und sehr ängstlich aussahen.
When she got back to the Cheshire Cat, she was surprised to find quite a large crowd collected round it: there was a dispute going on between the executioner, the King, and the Queen, who were all talking at once, while all the rest were quite silent, and looked very uncomfortable.
Sobald Alice erschien, wurde sie von allen dreien aufgefordert, den streitigen Punkt zu entscheiden, und sie wiederholten ihr ihre Beweisgründe, obgleich, da alle zugleich sprachen, man kaum verstehen konnte, was jeder Einzelne sagte.
The moment Alice appeared, she was appealed to by all three to settle the question, and they repeated their arguments to her, though, as they all spoke at once, she found it very hard indeed to make out exactly what they said.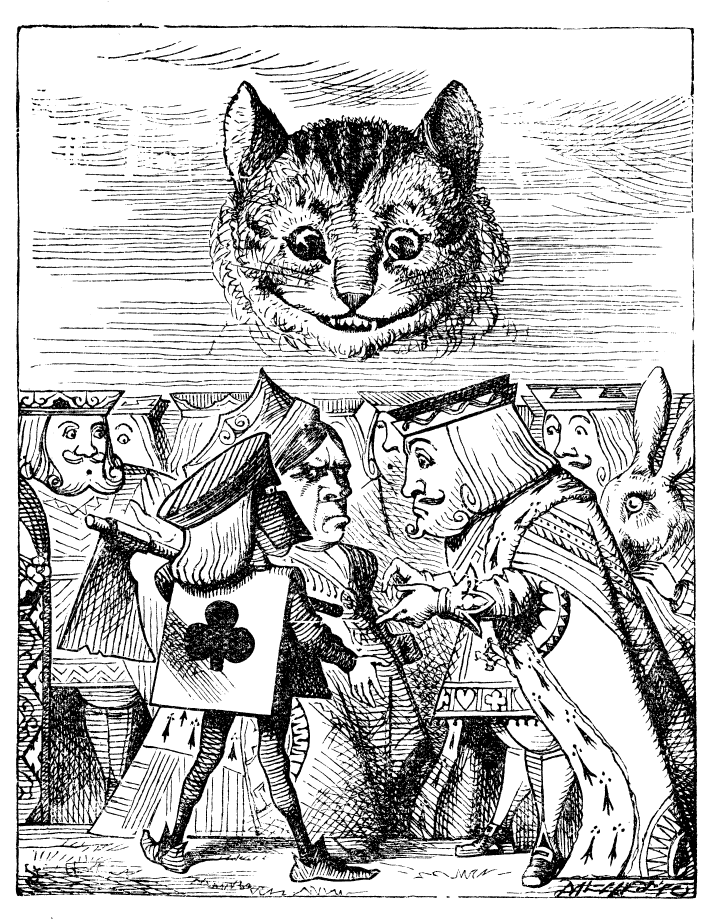 Der Henker behauptete, daß man keinen Kopf abschneiden könne, wo kein Körper sei, von dem man ihn abschneiden könne; daß er so etwas noch nie gethan habe, und jetzt über die Jahre hinaus sei, wo man etwas Neues lerne.
The executioner's argument was, that you couldn't cut off a head unless there was a body to cut it off from: that he had never had to do such a thing before, and he wasn't going to begin at HIS time of life.
Der König behauptete, daß Alles, was einen Kopf habe, geköpft werden könne, und daß man nicht so viel Unsinn schwatzen solle.
The King's argument was, that anything that had a head could be beheaded, and that you weren't to talk nonsense.
Die Königin behauptete, daß wenn nicht in weniger als keiner Frist etwas geschehe, sie die ganze Gesellschaft würde köpfen lassen. (Diese letztere Bemerkung hatte der Versammlung ein so ernstes und ängstliches Aussehen gegeben.)
The Queen's argument was, that if something wasn't done about it in less than no time she'd have everybody executed, all round. (It was this last remark that had made the whole party look so grave and anxious.)
Alice wußte nichts Besseres zu sagen als: "Er gehört der Herzogin, es wäre am besten sie zu fragen."
Alice could think of nothing else to say but 'It belongs to the Duchess: you'd better ask HER about it.'
"Sie ist im Gefängnis," sagte die Königin zum Henker, "hole sie her." Und der Henker lief davon wie ein Pfeil.
'She's in prison,' the Queen said to the executioner: 'fetch her here.' And the executioner went off like an arrow.
Da wurde der Kopf des Katers undeutlicher und undeutlicher; und gerade in dem Augenblicke, als der Henker mit der Herzogin zurück kam, verschwand er gänzlich; der König und der Henker liefen ganz wild umher, ihn zu suchen, während die übrige Gesellschaft zum Spiele zurückging.
The Cat's head began fading away the moment he was gone, and, by the time he had come back with the Duchess, it had entirely disappeared; so the King and the executioner ran wildly up and down looking for it, while the rest of the party went back to the game.
Text from wikisource.org
Audio from LibreVox.org
Text from wikisource.org
Audio from LibreVox.org